Why Zinc?
"We anticipate zinc resources will be a scarce commodity in the short and medium term. Zincore's strategy is to be well positioned to maximize shareholder value from this opportunity."
Value
The zinc market has rebounded since the beginning of 2009.
China, a long term world zinc supplier is now a net importer.
Rapidly growing BRIC economies will further increase the demand in the years to come.
Best estimates suggest that a significant portion of mine capacity will be closing or decreasing over the next few years.
Growing risk of the tightening of the zinc concentrate market.
Few new mines are currently being developed and therefore it is predicted that few will be entering production in the foreseeable future.
Uses
Its most important application is in the protection of steel against corrosion.
Steel is one of the most widely used materials in the world and zinc allows its durability to be prolonged. It extends the life and reduces the maintenance costs of many steel goods such as homes, cars, bridges, and port facilities.
Zinc fuel cells are used to power electric vehicles, generators, computers, cell phones, and hearing aids.
Is a natural component of the earth's crust. It is also present in air, water, plants, animals and humans.
Is an essential element for human health.  Adequate daily intake is important for the proper function of immune system, digestion, and reproduction.
Is a natural element that plays a critical role in the biological processes of all living organisms. Therefore it is critical to the environment rather than harmful.
It is used in food, animal feed, and fertilizers, as well as pharmaceuticals and cosmetics.
Is fully recyclable.
Zinc Production by Country 2010
Some of the significant zinc producing countries are Peru, Mexico and Canada as the chart highlights:
Back to Top
Zinc Statistics
2006 - 2010





Back to Top
One Year Zinc Spot
The price of Zinc over the past year since the market meltdown of 2008 has rebounded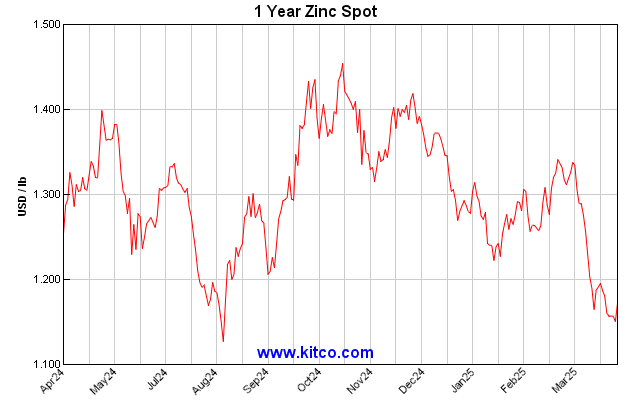 Back to Top
One Year LME Zinc Warehouse Stocks Level
Back to Top